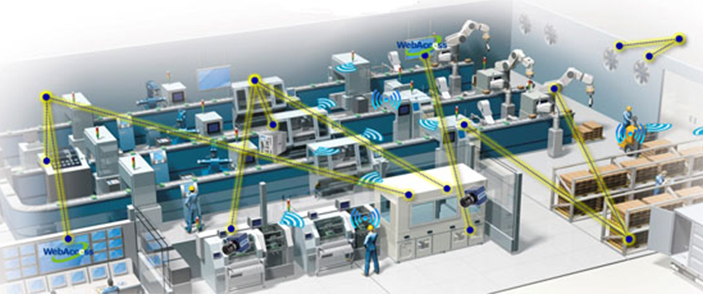 LTE-Unlicensed Network for Factory Project Background
No matter what is called, Industrial 4.0 or industrial Internet, or China's Manufacturing 2025, building efficient and intelligent production plan is the key to the competitiveness of enterprises in the future. For manufacturing industry, the interconnection of production equipment is the basic element to improve production efficiency. Therefore, intelligent manufacturing poses higher requirements for network communication of various applications. The LAN communication in manufacturing factories can be categorized as cable network or wireless WiFi network. The cable network has the problem of inconvenient wiring and maintenance, and is disadvantageous to the layout planning of the production line. Whereas, WiFi wireless network has the problems of signal interference, insufficient coverage, instable communication and poor security. In order to solve the problems that have bothered LAN communication in the manufacturing industry for a long time, Darveen Technology provides the LTE-Unlicensed (unlicensed band) communication solution, which greatly expands the coverage of wireless signals by unlicensed spectrum LTE technology, and brings stable and reliable connection to users. Because wireless spectrum same as WiFi 5.8GHz is used, there is no need for telecom operators to provide access services, and enterprises can build their own wireless network. At the same time, it can help avoid WiFi 2.4GHz spectrum which may be subject to interference, and take advantage of wireless spectrum resources to the greatest extent. LTE communication technology also ensures the safety and reliability of communication. Darveen Technology provides the ICG-680 LTE-Unlicensed CPE, with HUAWEI LTE-U wireless module embedded. The perfect combination with HUAWEI 5.8G LTE core network and base station renders a best solution for equipment networking of manufacturing industry.
Darveen solution
LTE-Unlicensed is a communication method which is constructed on unlicensed spectrum of LTE, and runs LTE. Darveen Technology's ICR-680, which integrates Huawei eLTE-U chip, runs LTE communications on a 5.8GHz unlicensed spectrum, enabling enterprise users to deploy the most specialized and advanced industrial wireless private network on their own. Darveen ICR-680 miniaturized eLTE-U cellular router provides RJ-45 ports, making it easy for production equipment with LAN ports to realize LTE-Unlicensed communication, and to achieve efficient and secure network connection.
Product specifications
● Fanless design, Al-alloy enclosure
● Low power Atmel Cortex A5 CPU
● Linux 4.9.x operating system, which is stable and reliable
●  Mini-PCIe expansion, integrating private network LTE communication module
● Supports Hard-SIM slot and Soft-SIM code writing
● Provides one Gigabit LAN port to connect a device or network switch
● Provides one Console port, to facilitate device management
● Supports wall mount, desktop and industrial guide rail mounting solutions
● Small form factor, easily embedded into industrial equipment
● Web-based set software, which is easy to use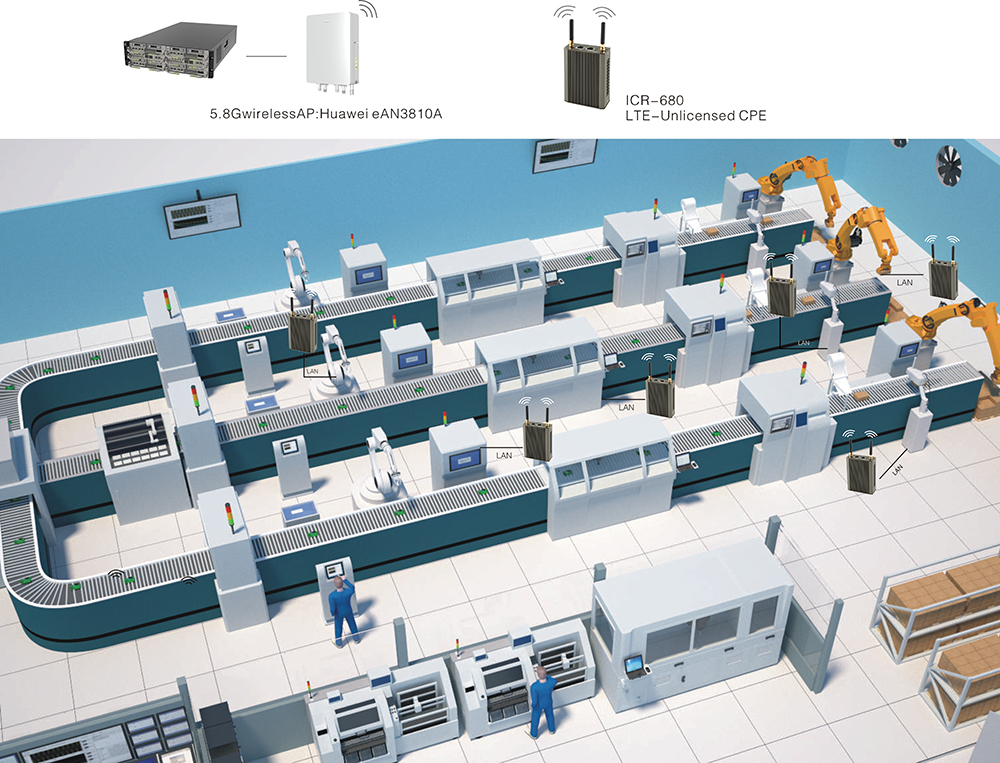 ICG-680 (LTE-Unlicensed 5.8GHz)
● Built-in Huawei LTE-U 5.8GHz wireless module
● Supports hard SIM card and soft SIM burning
● Provides RJ-45 10/100/1000M LAN port
● DC 12V power input
● Supports wall mount, horizontal mount and DIN rail mount

Comparison table of equipment networking solutions
Wirednetwork
WiFi network
LTE public network
LTE-Unlicensed network
Defects

Complicated layout and difficult maintenance when the number of networking is large
Flexible expansion and layout impossible

Large signal interference
Small coverage, large number of base stations
Low security

Telecom operators to provide service, cost for network traffic
Operator service and prompt response not guaranteed

Advantages
Easyinstallation and setup
Convenient maintenance
Many device solutions to choose from
Lessbother

Large coverage
Resistance to interference
High level of communication security
Convenient maintenance

Application fields
● Port and wharf, freight yard
● Airport vehicle scheduling
● Urban rail transit
● AGV, warehousing and logistics
● Chemical industry, oil fields, mines, power plants, and water management