Darveen Android Vehicle Mount Computer Installed on Forklift in a Tobacco Warehouse
The customer is a large-scale tobacco industry group involved in manufacturing and sale of cigarettes, assorted supply of cigarettes materials, other tobacco import and export business within the scope of authorization or entrustment, other production and operation related to the production and sale of tobacco products, diversified operation, asset management.
Application
To improve management efficiency of warehousing and to build advanced warehousing system, the tobacco company installed the latest introduced Darveen android vehicle mount computer VT-740A as well as RFID detection antenna and reader/writer on warehousing forklift that rapidly improved the automation efficiency of warehousing management system. The RFID detection antenna is installed on the front fork, which can automatically scan the RFID tag information of the goods. The received information is transmitted to the RFID reader through the cable, and then the reader forward information to the computer through wire or wireless network, realizing the automatic identification of the goods. According to actual needs. users can also directly use 4G mobile phone network as the wireless communication network of the warehouse to transmit data back to the back-end server. The whole process reduces manual participation and improves warehousing work efficiency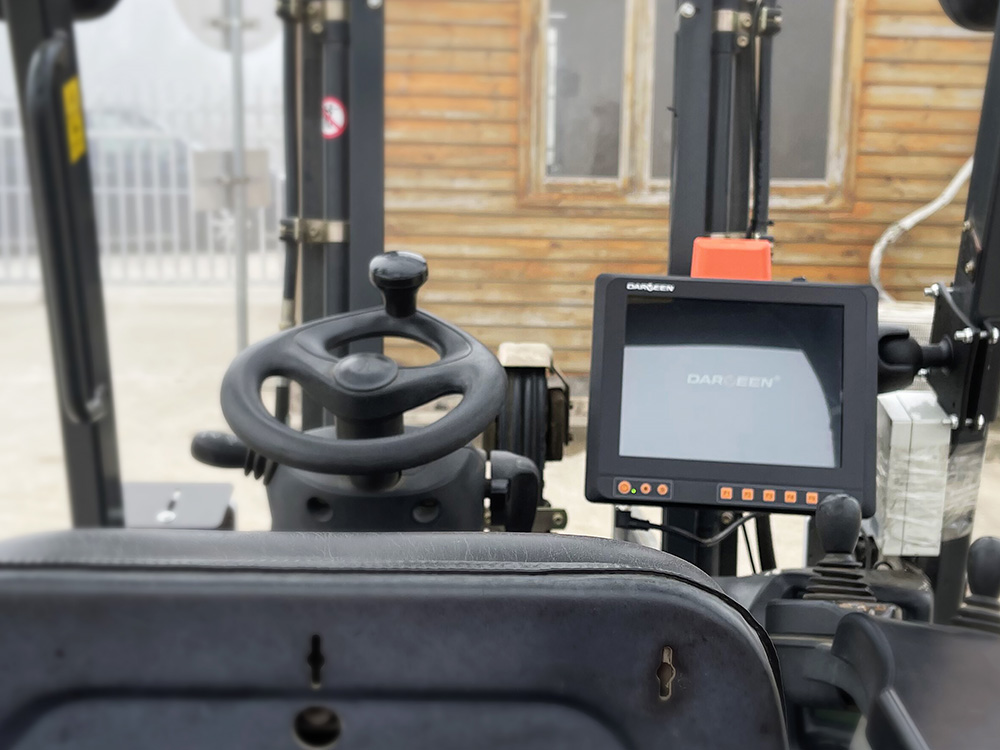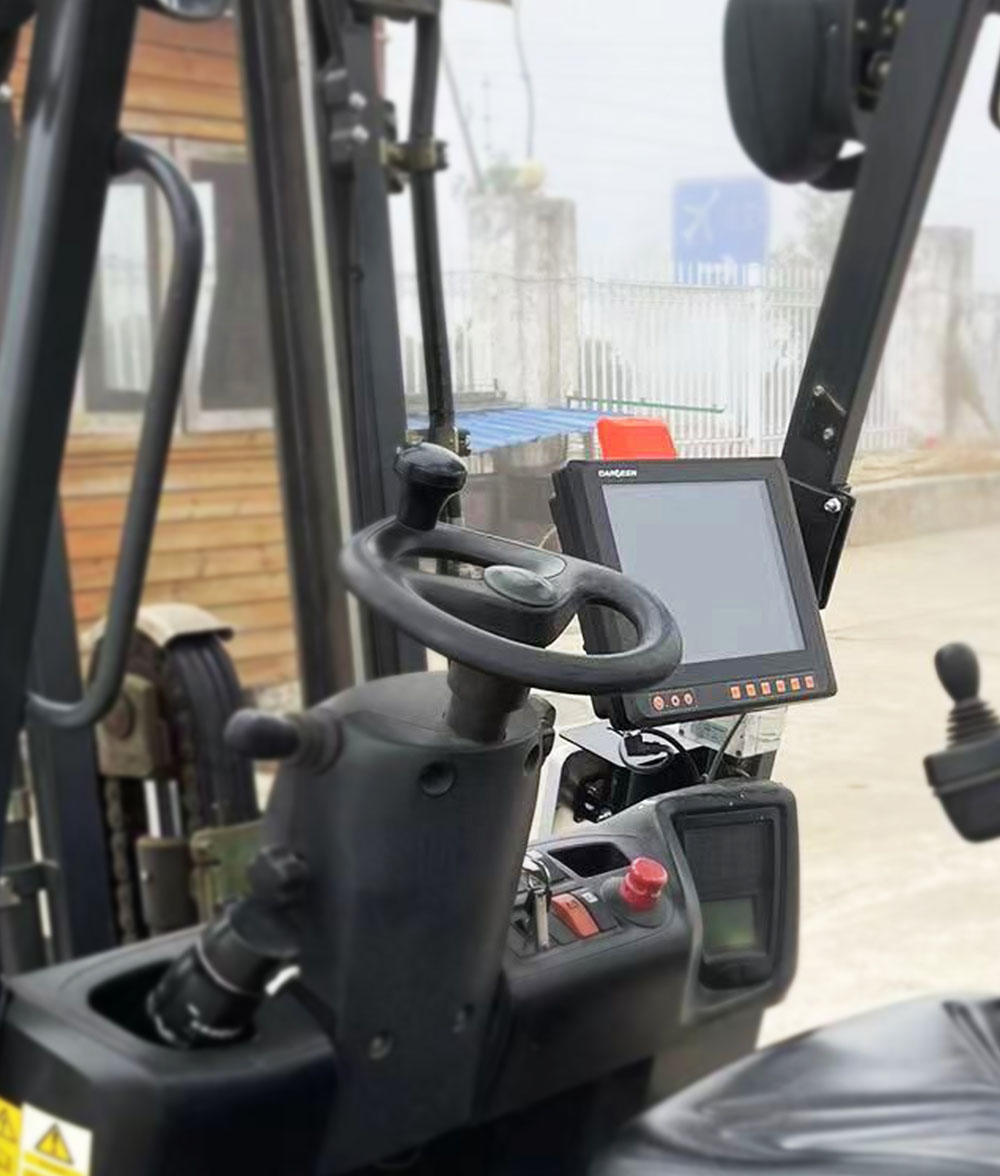 (Site installation effect diagram of VT-740A Android Vehicle Mount Computer)
System Architecture  
1.VT-740A android vehicle mount computer integrates Rockchip high performance six-core processor with Android 11 preinstalled;
2.10.4inch industrial grade LCD and multi-touch capacitive touch screen user-friendly display daily task, easy for driver's operation
3.Optional Build-in Wi-Fi, Bluetooth, all mode 4G/5G and GPS can help realize real-time data exchange, seamless connection, real-time scheduling and monitoring management.
4.Aluminum alloy die-cast design, full IP65 protection, running in harsh environment;
5.Abundant I/O, Support industrial grade RFID reader and writer;
6.Optional vehicle mount power adapter, mounting brackets, industrial grade anti-water keyboard and other accessories for forklift application.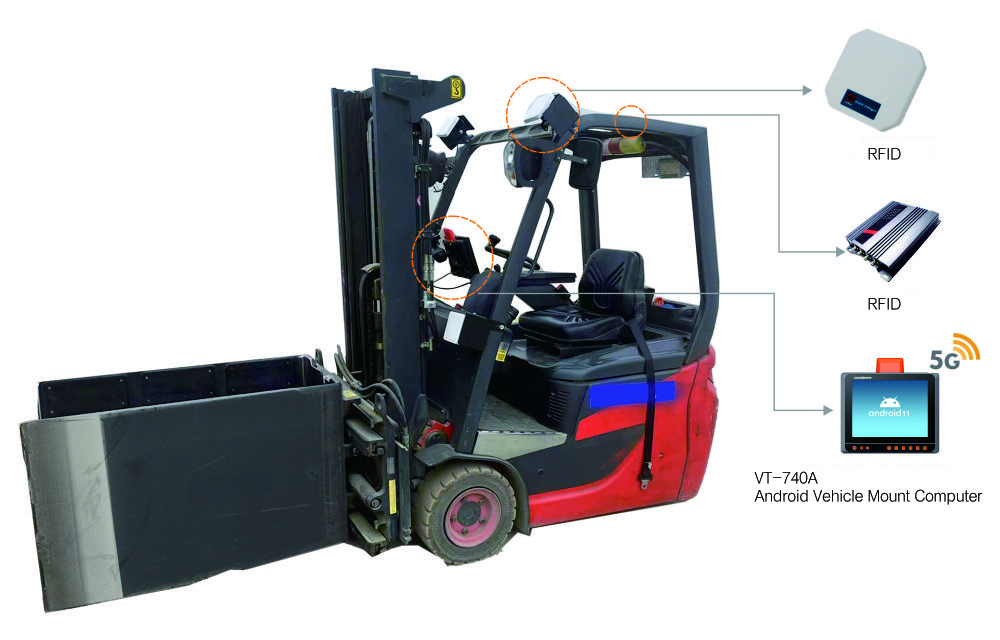 (Forklift Computer with RFID Reader)
VT-740A Features
● 10.4inch (1024×768) industrial grade LCD, multi-touch capacitive touch screen
● High performance six-core CPU, Max 1.8GHz
● F1-F6 function keys on front panel
● Rugged aluminum alloy housing, fanless design, IP65 grade of anti-dust and anti-water
● Abundant I/O including USB,RS232,LAN,SIM,TF etc.
● 8-36V DC input, VESA installation wholes reserved
● Optional Wi-Fi, Bluetooth, all mode 4G/5G, GPS etc.


(VT-740A Android Vehicle Mount Computer)