Factors to Consider When Seletcting an Industrial Box Computer for Machine Vision Applications
Industrial box computers are commonly used in machine vision applications to provide robust and reliable computing power. These computers are designed to operate in harsh environments and often come with features such as rugged enclosures, enhanced thermal management, and expansion options for connecting various peripherals.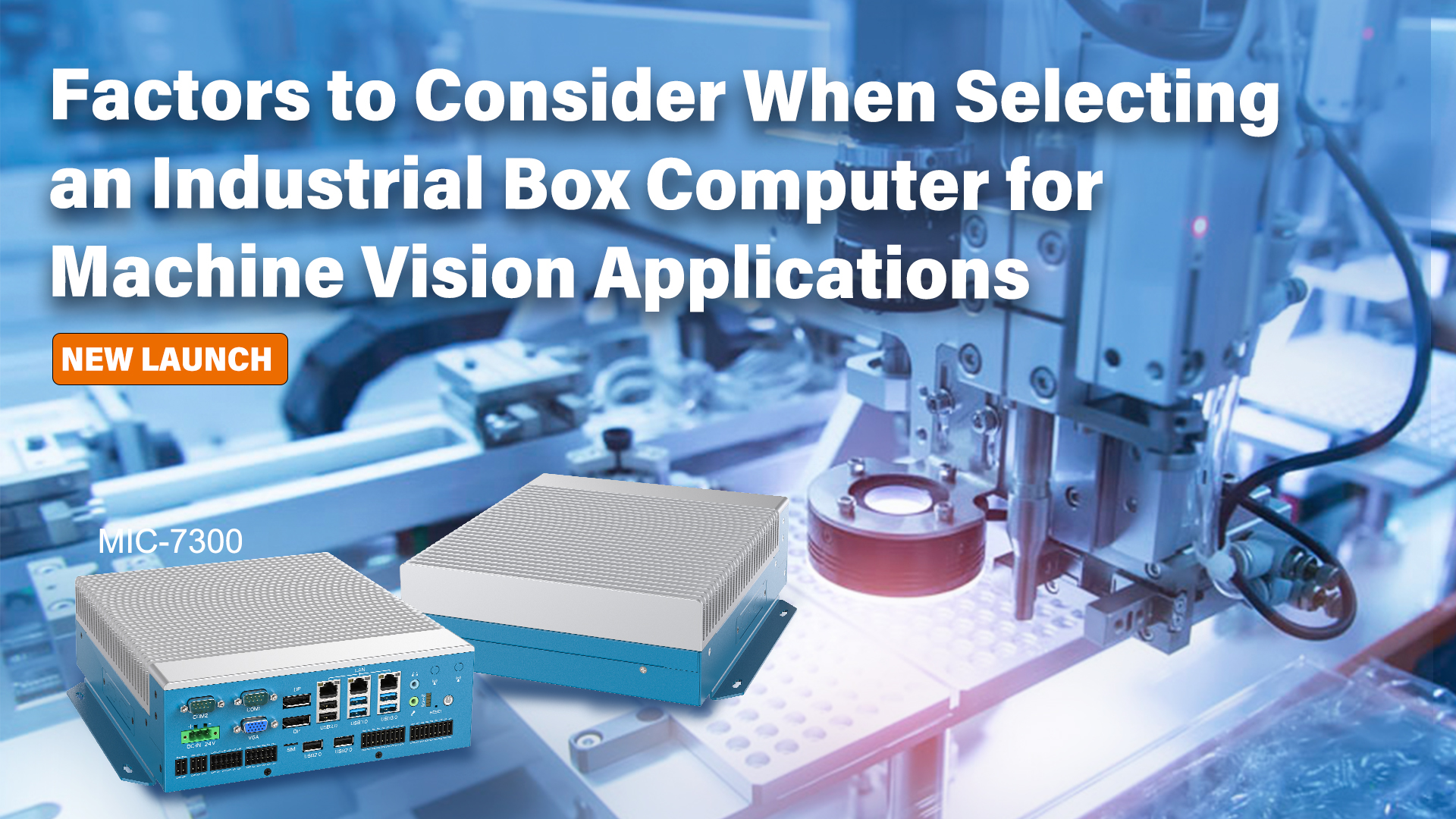 When selecting an industrial box computer for machine vision, there are several factors to consider:
Processing Power: Machine vision algorithms can be computationally intensive, so it's essential to choose a box computer with sufficient processing power. Darveen MIC-7300 industrial box computer can be installed with Intel LGA 1151 6/7/8/9th CPU for more demanding tasks.
GPU Capability: Graphics processing units (GPUs) can significantly accelerate machine vision tasks, especially those involving deep learning and image processing.
Expansion Slots: Check for available expansion slots, such as PCIe or mini-PCIe, to accommodate additional hardware components like frame grabbers, camera interfaces, or specialized vision cards. Darveen MIC-7300 industrial box computer offers expansion slot modules to cater to various application requirements, which features 1x full-length mini PCIe slot, 1x optional TPM2.0 module, and 1x SIM card slot for seamless 4G/5G connectivity.
Storage and Memory: Opt for a box computer with sufficient RAM and storage capacity to handle the requirements of your machine vision applications. Darveen MIC-7300 industrial box computer is equipped with 2x DDR4 2133 MHz SO-DIMM slots, allowing users to meet their demands by expanding the memory capacity up to 32GB.
Connectivity: Consider the connectivity options provided by the box computer, such as USB, Ethernet, serial ports, and GPIO (general-purpose input/output) interfaces. These connections are crucial for interfacing with cameras, sensors, actuators, and other external devices. Darveen MIC-7300 industrial box computer supports an optimized set of connectivity options, including 4x USB 2.0 and 4x USB 3.0 ports for high-speed data transfer, 32x GPIO pins for versatile input/output control, 6x COM ports for seamless serial communication, 2x LAN ports for reliable network connectivity, 2x DP and 1x VGA ports for multiple display options, and 2x CAN2.0B interfaces for efficient industrial communication.
Operating System Compatibility: Ensure that the box computer supports the operating system (such as Windows or Linux) and machine vision libraries/frameworks (e.g., OpenCV) required for your application. Darveen MIC-7300 industrial box computer is compatible with Windows 7, 8, and 10, as well as Ubuntu.
Environmental Considerations: Industrial environments can be harsh, with conditions like temperature variations, humidity, dust, and vibration. Choose a box computer with a ruggedized enclosure and adequate protection against these elements. Darveen MIC-7300 industrial box computer is a cutting-edge device with a fanless design, ensuring efficient heat dissipation. Its robust construction, made of high-quality full aluminum alloy material, enhances its durability and resistance to pressure and shock. With operating temperature range of -10 to 50°C, it excels in performance even in challenging environments.
It's advisable to consult with a vendor or system integrator specializing in machine vision to help you select the most suitable box computer for your specific application requirements. Darveen has extensive experience in the industrial sector, with over 20 years of working knowledge. Our long-standing presence in the industry demonstrates their reliability and expertise. We have consistently proven ourselves to an excellent choice for various industrial projects and tasks. Our wealth of experience allows us to optimize processes and find efficient solutions to challenges within the industrial sector.