Forklift Computer for Cold Storage
Background
Cold storages are mainly used for storage under constant temperature, ranging from -30℃ to +70℃. The equipment used in storages needs to have waterproof, dustproof and condensation-proof performance. For cold storage logistics, forklifts and computers are usually equipped to realize an information tracing system. Each piece (box) of cargo is assigned a unique identification code, an RFID label or a barcode. So the logistics flow can be tracked and monitored from each piece entering the storage to exiting, and to the terminal sales points. In this way, logistics information automation (including incoming management, warehousing management and delivery management) for all the cargos in the storage can be realized, which improves the logistic efficiency of the storage and lowers the cost. Darveen industrial computing system integrates RFID reader and barcode system assembly onto the forklift, and connects them to the internal information system of the company by wireless communication method. Darveen solution greatly shortens the time for forklift operators to find the cargo for delivery and transportation,  and at the same time sorts out the cargo reasonably, so as to achieve the goals of improved efficiency, cut cost and effective control. Darveen in-vehicle computers also have heating function, which has perfectly solved the misting and condensing problems encountered by common electronic devices in the cold storage.
Requirements for the Solution
● All-in-one computers with touchable display.
● The computers can run in -30℃ low temperature environment, and the screen has mist elimination function.
● Mounting brackets supporting various forklift models.
● Supports forklifts with various battery capacities, such as 12V, 24V, 48V, 80V, and etc.
● Connect scanners and RFID reader via I/O ports, and they need power supply.
Solution
The solution provided by Darveen includes:
● Darveen VT-708D in-vehicle computers with heating function.
● Rugged and excellent-performance long distance scanner and scanner bracket.
●  Forklift mounting bracket.
● Regulated power supply for forklifts.
● Onsite equipment testing and installation service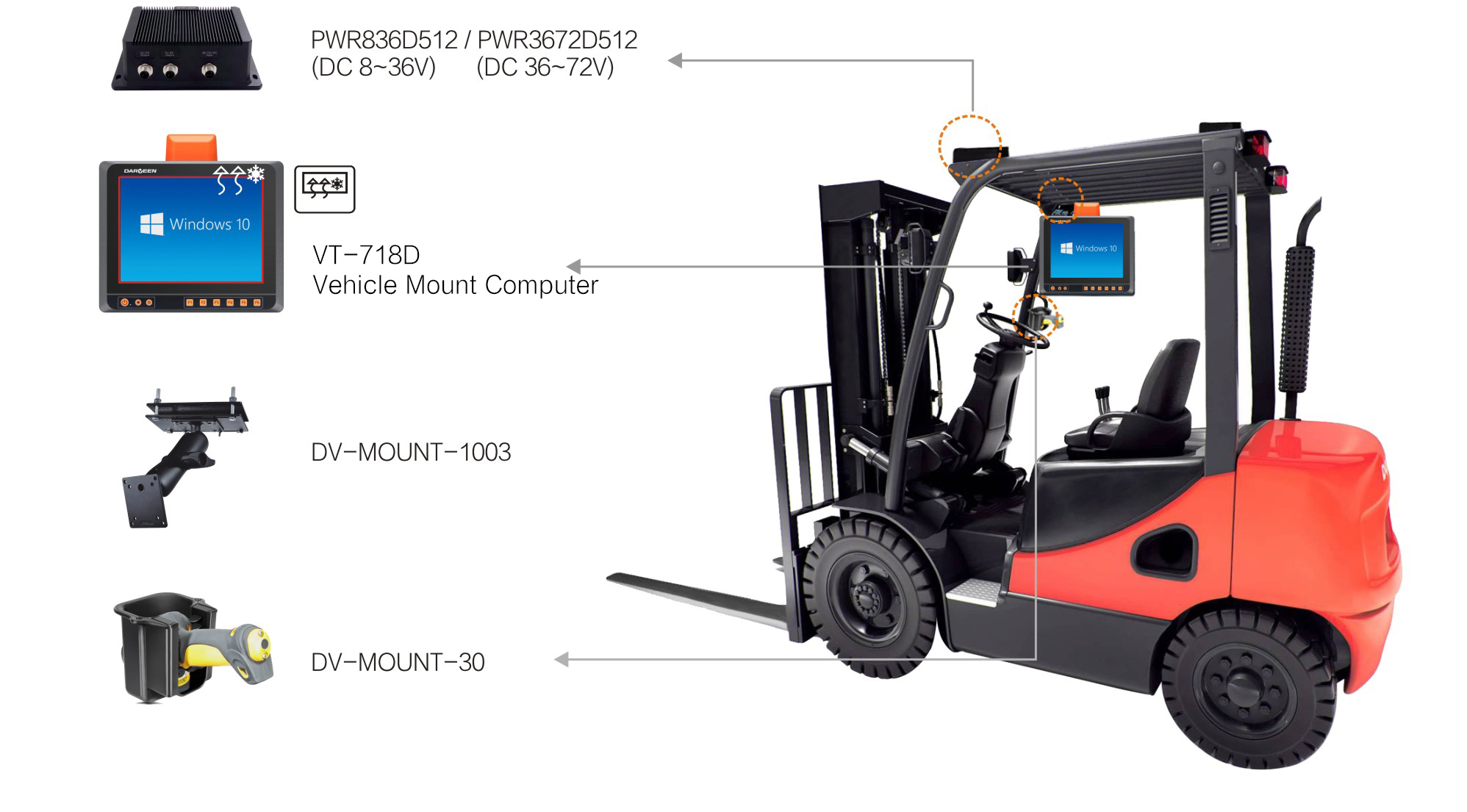 Solution Advantages
● Dual-core/Quad-core low power high-performance processors, full Al-alloy fanless rugged in-vehicle computers.
● Screen with PTC heating function, combined with optical bonding technology, can realize defrosting/demisting function.
● U.S military MIL-STD-810G anti-vibration/shock standard, IP66 dustproof and waterproof performance.
● Multiple I/O ports, supporting various high-performance industrial grade scanners.
● Solution equipped with in-vehicle power supply, mounting brackets and industrial water-proof keyboard for multiple forklift models.
Application Area
● Forklifts of warehouses