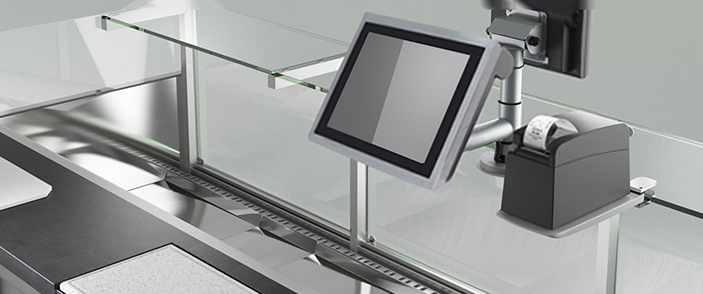 Panel PC for DWS System
Project Background
DWS system is a data information acquisition system to collect dimensions, weight, barcode information, and etc. Using laser scanning or visual scanning, metering balance and industrial code reading technology, the system can timely acquire the weight, dimensions and barcode data and upload them in real-time. Because the system features easy operation, complete functions and high efficiency, the logistics industry uses it for package barcode scanning, weighing and bill image acquisition and saving.
Requirements for the Solution
● Characteristics of the industry require rugged and robust equipment.
● Both wired and wireless network supported.
● Voice broadcast function needed.

Solution Introduction
Darveen industrial panel PCs work together with DWS system to carry out static or dynamic processing of packages (cargo) and avoid tedious manual work. They help customers in e-commerce and logistics industry process large quantities of orders efficiently, including order picking/order execution, packaging, order review, sorting and on-time delivery.

Darveen Solution Advantages
● Complete functions, rugged design and convenient maintenance.
● Supports both wired and WIFI data communication methods.
● Built-in speaker to announce various status as required.
● Specially designed for industrial sites, long-time stable operation ensured.