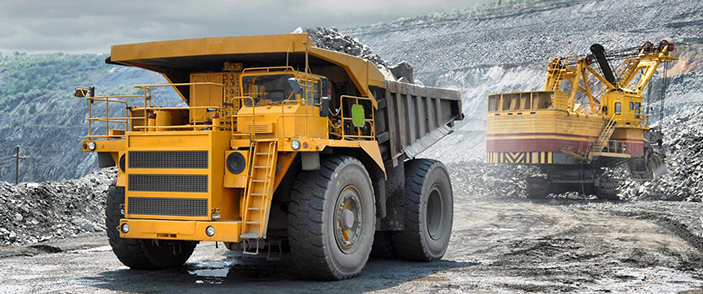 Mining Vehicle Solution
Background
Modern mining is faced with many challenges, the most important of which is the safety issue. The employees' safety must be guaranteed, no matter they are working underground or on the ground. Therefore, advanced mine vehicles must be equipped with special in-vehicle computers, which can operate stably in the extremely harsh mining environment, to ensure the completion of the task.
Requirements for the Solution
● Industrial grade fanless embedded in-vehicle computers.
● Wireless communication capability and precise GPS positioning capability.
● Normal operation with unstable voltage of in-vehicle batteries of various mine vehicles.
● Connect various sensor devices via I/O ports.
Solution
Darveen in-vehicle computers are specially designed for mining environment. With all-weather protection grade and integration of precise GPS and GIS systems, the Darveen products can forestall collisions and reduce accidents for mine vehicles, provide CAN modules for the communication of vehicle systems, keep track of the operating status of the vehicles in real time, and ensure the timely maintenance of the vehicles. Integrating 3G/WiFi communication capability, Darveen in-vehicle computers can keep close contact with the dispatch center, help managers timely obtain information and ensure operation with highest efficiency.
Solution Advantages
● A complete range of products, providing multiple in-vehicle computers for customers to choose from based on their own conditions. Darveen in-vehicle computers come in multiple display sizes, integrated and split style, with touch screen or integrated keyboard, and different operating systems, for customers to select the one that best suits their needs.
● Optional wireless cameras/POE Camera. To ensure drivers' safety, we have designed a camera that adopts wireless communication. By cameras powered by Ethernet, drivers can see every corner of the large truck more clearly.
● Beidou/GPS dual mode positioning, various wired/wireless sensors.
● By various sensor signal transmission modes (such as CAN, Zigbee, RFID, GPIO, Bluetooth, RS-484), various sensors and image information can be transmitted to the Darveen in-vehicle computers conveniently.
● To upgrade the data communication between in-vehicle computers and hospitals, Darveen in-vehicle computers are equipped with various high speed wireless network adapters, including commonly-used 3G and new-generation LTE solution.
● To make the in-vehicle computers more adaptable to the environment of mine vehicles, we have designed wide-voltage power input, delayed switch on/off and other special functions, so that Darveen in-vehicle computers can operate more smoothly in the vehicle.
Application Areas
● Outdoor mine vehicles, tanker truck, etc.