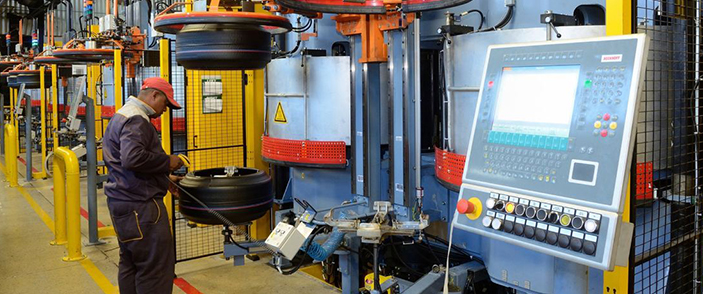 Panel PC for Tyre Building Machine Project Background
Project Background
China is a big producer and exporter of tires. In the process of tire production, the building process is the key. The semi-finished parts are to be assembled into green tires on the building machine according to the technical specifications. This process is very complex, thus having high requirement for equipment processing and positioning accuracy. Major tire building machine manufacturers have spared no effort to research and develop efficient, accurate, simple-to-use products. The tire equipment manufacturers in China have also made unremitting efforts to develop machines that can meet production requirements in terms of processing, technology and efficiency. With reliable performance and resistance to harsh industrial environment, Darveen DPC family industrial panel PCs can bring users a highly efficient, easy-to-install and cost-effective experience.
Requirements for the Solution
● Limited space of control cabinet requires space-conscious method for mounting.
● Harsh environment requires higher protection grade.
● High-performance platform to support stable and reliable non-stop operation.
Solution Introduction
With compact structure and reliable performance, Darveen DPC family industrial panel PCs serve as the upper computers to run the customer operating software and store data. Supporting panel mounting and VESA mounting, the products can seamlessly merge into the control cabinet and save a lot of space. Downwards, the products can connect camera, PLC and other meters and instruments, and provide reliable transmission. With resistance to a variety of complex harsh industrial environments, Darveen products provide strong guarantee for customers to improve productivity and product quality.

Darveen Solution Advantages
● Darveen DPC Industrial panel PCs adopt Intel Skylake platform, which features excellent performance with low power consumption.
● All-in-one design, multiple mounting methods, installation space saved and overall appearance improved.
● Highly compatible with various types of old equipment.
● High protection grade, resistance to harsh environments such as dust and irritant gases.
Industrial Applications
● Intelligent factories.
● Intelligent logistics.
● Equipment automation