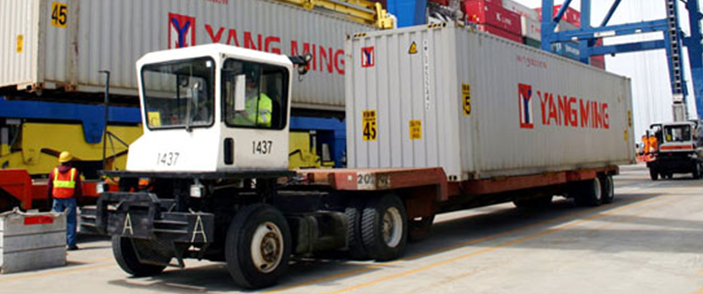 Background Introduction
For the management of container trucks at terminals, Darveen Technology has designed in-vehicle computers (VT family) and in-vehicle LED displays (VLD family) on various platforms based on the terminal TOS system. Darveen also provides various mounting brackets to fix the in-vehicle computers in the narrow cab, and a variety of antenna options (rod, ceiling-mount or FRP), wide-voltage waterproof power supply and waterproof external keyboard. All these have effectively met the customer's requirements for stability and convenience of use.
Requirements for the Solution
● Medium/Small-size all-in-one in-vehicle computer with touchable display.
● In-vehicle LED display.
● Mounting bracket.
● Wide-voltage water-proof power supply.
Solution
Darveen Vehicle Mount Computer (VT family) provide 7-inch to 10.4-inch touch screens, and runs on Windows/Android operating systems. They contain built-in WiFi, 4G LTE communication modules and GPS positioning module, to facilitate friendly human-machine operation of TOS system, and real-time transmission of dispatch orders.
The in-vehicle LED displays (VLD family) are mounted in front of the windshield of the container trailer cab. VLDs receive information from in-vehicle computers by serial ports, and display it to the working staff outside the trailer, informing them the type of container lock, destination of the trailer, and etc. In this way, the working efficiency of the terminal can be improved. Furthermore, the Darveen TMT family products integrate the LED display and in-vehicle computer, with the LED screen facing outside, and a screen and function keys facing the driver. This all-in-one design makes it easier for customers to install and disassemble the product.

Solution Advantages
● Reliable product quality to meet the requirement for 7*24 non-stop operation.
● Vehicle standard wide-voltage power input, to support various terminal truck models.
● Multiple screen size (7-10.4-inch), optional Windows and Android platforms.
● Full Al-alloy enclosure, fanless design, to meet anti-dust, water-proof and anti-salt-fog standards for the terminal environment.
● Multiple mounting methods, which support various terminal truck models, and render reasonable and effective use of space.
Application Area
● Container terminal yard.