Container Truck Solution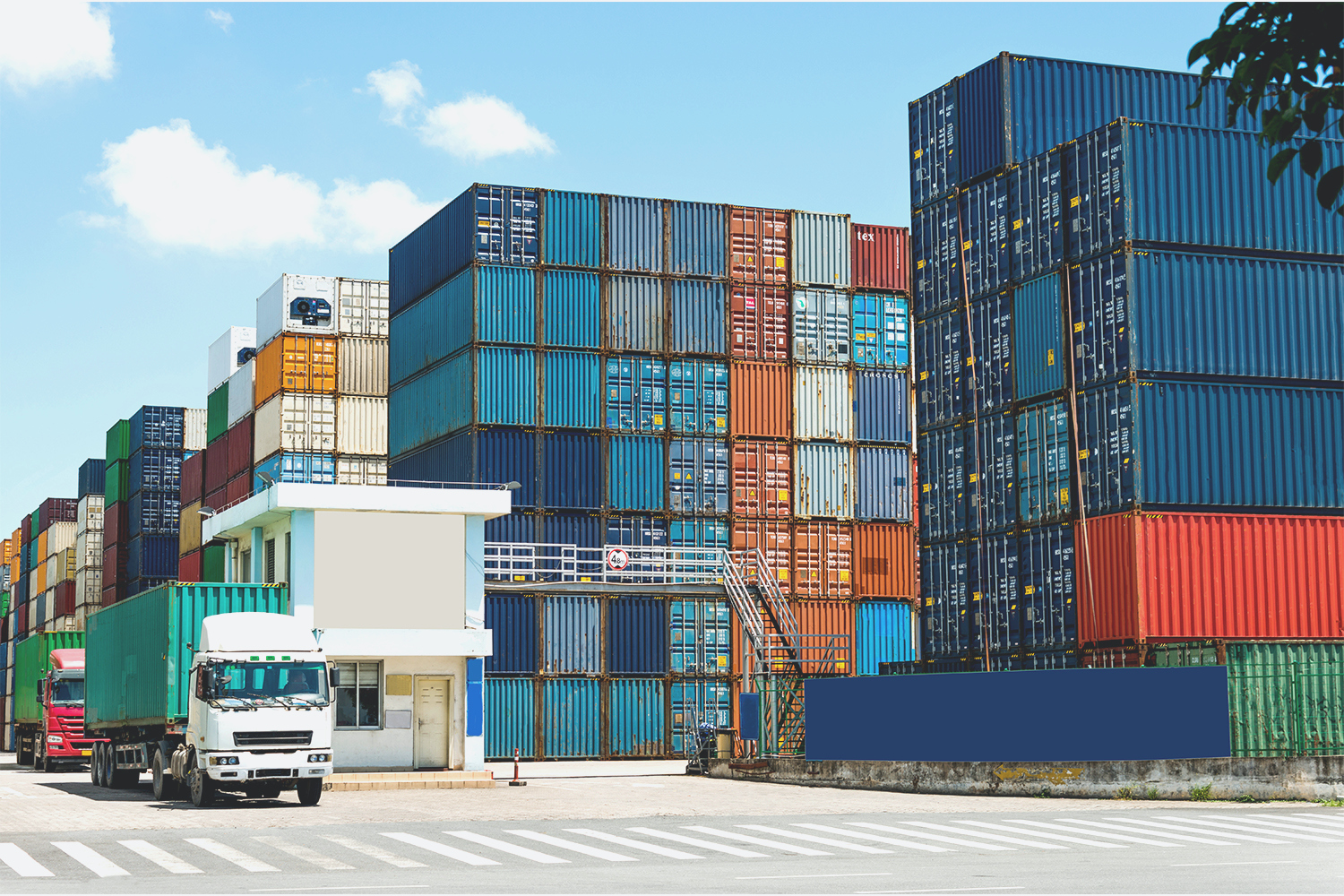 Imagine a container truck driver who receives a cargo mission. He must transport the cargo from point A to point B in the most efficient way possible, perhaps from a factory warehouse to a port terminal. However, the container yard of a port terminal is vast, and hundreds of container trucks enter from all directions every day. Ensuring that the fleet enters the correct stacking position in sequence has become a major concern for container truck drivers and port operators. With the aid of modern technology, such as wireless communication technology, combined with Darveen's dual-screen vehicle mount computers, it is easy to ensure the safe operation and productivity of the fleets.
Requirements
The dual-screen vehicle mount computer, installed in the windshield position, can significantly improve the efficiency of the driver. It utilizes 4G/5G wireless communication and GPS functions to enable real-time scheduling, comprehensive fleet monitoring, and management.
The driver must log in to the computer operating system interface using either an employee ID card or face recognition. The control center sends operational instructions to the vehicle mount computer through a wireless local area network (WLAN) or 4G/5G connection. The relevant information is respectively displayed on the inner screen and the external LED screen of the vehicle mount computer. After confirming his work task, he heads to the destination with guidance from the GPS navigation system, which provides the optimal route. Upon arriving at the container yard, land-based workers can quickly direct the driver to the correct area based on the information displayed on the external LED screen. This information includes the quayside berth number, crane number, and stacking position number.
The computer hardware requirements are as follows:
Small and medium-sized all-in-one touchscreen vehicle mount computers
Sunlight readable LED displays facing out of the vehicle
High-stability wireless transmission for precise vehicle location and arrival time
Wide operating temperature range and excellent shock and vibration resistance
Equipped with mounting brackets and related accessories
In addition to container truck fleet management, the dual-screen vehicle mount computers can also be widely used in other on-road vehicles, such as engineering vehicles, mining trucks, agricultural vehicles, buses, trucks, shuttle buses, garbage trucks, and so on.
Solutions
All-in-one and Discrete Solutions
Darveen provides customers with two product options. One is an all-in-one solution,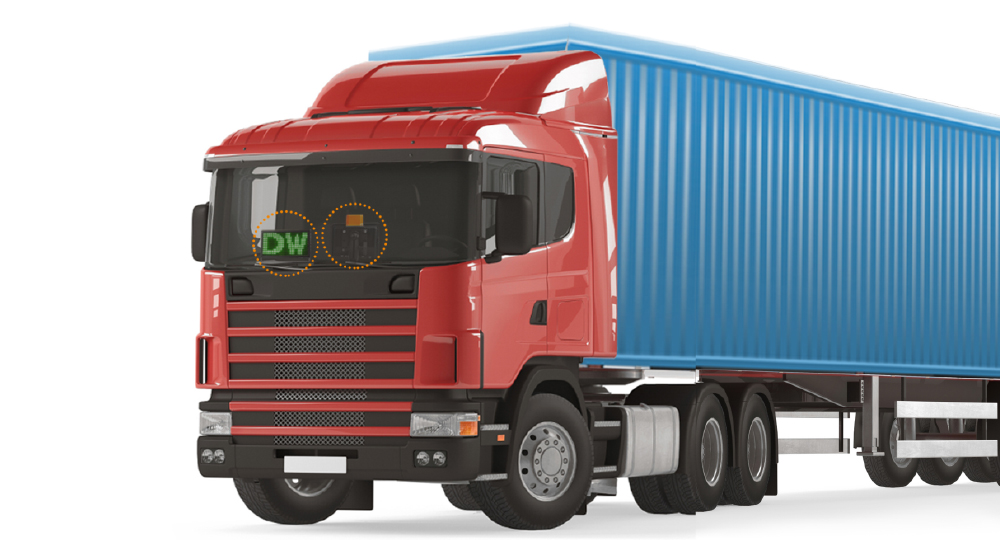 such as the TMT series dual-screen vehicle mount computers. The other is a discrete solution that combines the VT series vehicle mount computer with the VLD display screen to realize dual-display functionality inside and outside the vehicle.
The double-sided dual-screen TMT features a 1,000-nit sunlight-readable LED display on one side, facing outward from the vehicle. On the other side, it is oriented toward the driver inside the vehicle and offers a human-machine interface with multi-touch functionality. This all-in-one design enables easy installation and removal for customers. Alternatively, customers have the option to choose a discrete solution, where the VT series vehicle mount computer is positioned facing the driver's seat within the vehicle. The screen size of VT ranges from 7 to 10.4 inches and can be equipped with either Windows or Android operating systems. Additionally, an additional 1,000-nit VLD display is installed, facing outward from the vehicle.
4G/5G Wireless for Real-time Communication with the Fleets
Efficient traffic information and fleet management depend on reliable networks. With 4G/5G SIM cards and WLAN wireless communication, Darveen's vehicle mount computer solutions enable operators to quickly access critical data.
GPS Enhanced Navigation and Tracking
Real-time location information is the foundation of fleets and individual truck management. Darveen's vehicle mount computer solutions support GPS, GLONASS, Galileo, and Beidou positioning, allowing operators to track every vehicle in the fleets at all times.
Rugged Design for Harsh Environments
Trucks will encounter a variety of road conditions and harsh weather during long-distance driving, so a rugged and durable vehicle mount computer is indispensable. Darveen's TMT and VT series are constructed with aluminum alloy housings and dustproof and waterproof designs, capable of withstanding the high humidity and salt spray environments of the ports, and they can continue to operate in extreme weather conditions.  Additionally, they meet military standards MIL-STD 810G and MIL-STD 810H for shock and vibration tests, respectively, enabling them to endure the severe challenges of bumpy roads.
Complete Computer Brackets, Keyboards and Accessories
Darveen's vehicle mount computers offer a complete range of accessories, including keyboards, sunshades, antennas with various dBi gain units, and mobile power supplies with M12 IP65 waterproof connector. A variety of mounting options are also available to suit different types of vehicles and installation spaces.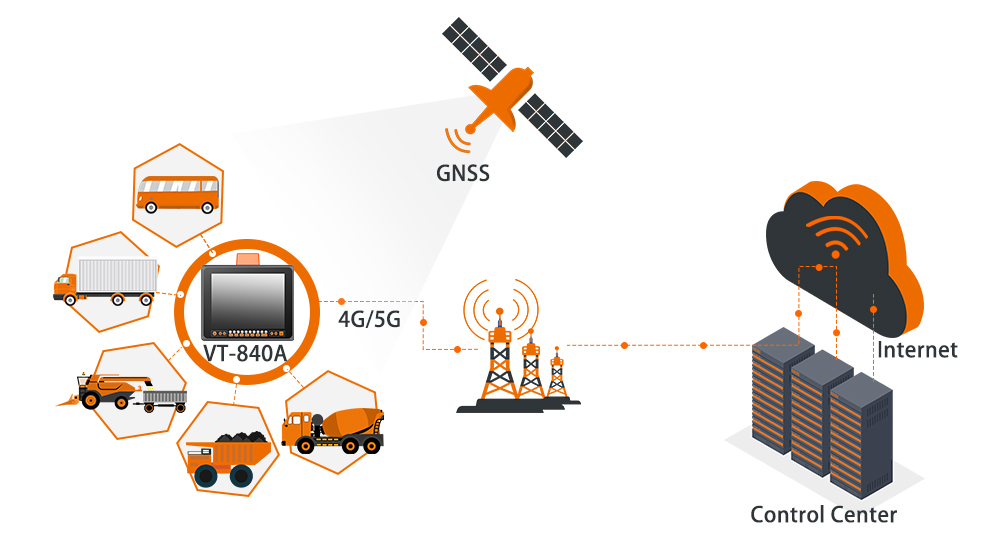 Benefits
The built-in wireless transmission and GPS capabilities of Darveen's vehicle mount computers enable two-way communication between fleets and operations centers. This enables drivers to plan their routes in advance based on real-time traffic information and avoid congested roads, thereby reducing travel time and fuel consumption. At the same time, the fleet management center is constantly aware of the fleet's location and estimated time of arrival. This not only enables accurate data management but also facilitates optimized vehicle dispatching, cargo tracking, and mileage analysis.
Darveen's dual-screen vehicle mount computers empower land-based port workers to guide vehicles more efficiently and simply, enhancing the smooth and expedient operation of the port.
Recommended Products
TMT-800A Dual Screen Vehicle Mount Computer

● 8″ LCD with capacitive touchscreen
● 8-character high-brightness LED bar screen
● Rugged aluminum enclosure and fanless design
● Flexible expansion capability for WiFi, Bluetooth, 4G/5G, GPS

VLD Industrial Vehicle Display

● 8-character high-brightness LED bar screen
● Rugged aluminum enclosure and fanless design
● Wide range 8-36V DC power input
● Multi-communication options, such as serial port, WiFi, 4G, etc

VT Windows Series Vehicle Mount Terminal

● 7" to 12.1" LCD with resistive or capacitive touch
● Intel Celeron/Core-i processor
● Support Windows, Linux OS
● Support WiFi, Bluetooth, LTE, 5G, GPS, CAN

VT Android Series Vehicle Mount Terminal

● 7" to 12.1" LCD with resistive or capacitive touch
● ARM RK3288/3399
● Support Android OS
● Support WiFi, Bluetooth, LTE, 5G, GPS, CAN